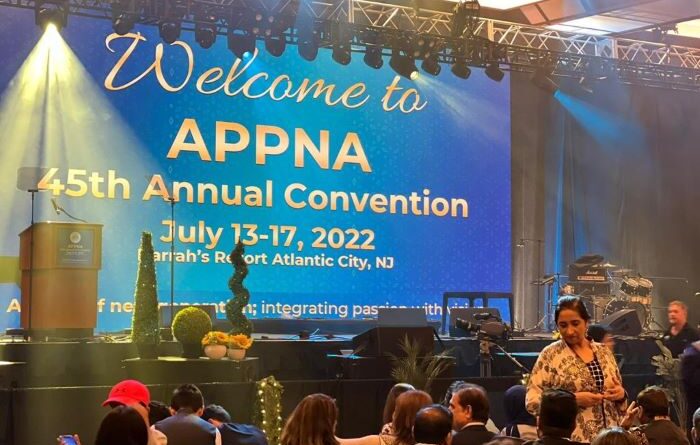 You are Here: Tweet, Like, Share, Comment, Subscribe…be the Voice of Free Press!
By Sajjad Suhail-Sindhu, Edited by Adam Rizvi, TIO: APPNA is always a fun place to be. Pakistani physicians make such a great effort, organizing gatherings which attract alumni from across the medical colleges in Pakistan. The occasion has become evolved into something of a carnival with vendors wares ranging from fine art to gold embroidered calligraphy to gold embroidered designer clothing to musicians. Celebrations are always raucous, almost strident.
Also Read, Tweet & Share: Muslim shopkeepers denied stalls at temple festival fairs in South Karnataka
People reach out to touch and hug one another, for not having seen them for a long time. During the 5 days the event was spread out, there were various speakers from across the US congregating each night for festivities that included speeches and music and awards handed out for various achievements during the past year.
Also Read, Tweet & Share: Thousands attend spectacular Dusshera-Diwali festival event in Houston
I visited on the final day and walking around I saw Pakistanis and their families from across the US greeting one another, swapping joyful stories, and in this write up, I reflect on what I saw, what made me happy, and what irked me, and how I came face to face with several self-absorbed, self-absolved, and self-aggrandizing, self-promoting, nepotistically placed in positions of power such as ambassador of Pakistan to the United States. Considering these people did not belong to the rightfully elected Government of Pakistan, but to one that removed the rightfully elected government of Imran Khan, by the "ganging together" in a marriage of convenience, of no less than 16 opposition parties – caused me to become rather irked.
Also Read, Tweet & Share: Jaipur Literature Festival begins in Houston
I found myself in a room with two Pakistani ambassadors and one, Ahsan Iqbal whose irksome and vainglorious speech about still carrying the "bullet" in what he pointed to be his abdomen, that he was shot in, and how he made such a sacrifice of not working for a Fortune 500 company but went back to Pakistan and help develop her, nearly made me puke. These three Pakistan officials sat at one end of a room on a raised platform with a makeshift long table together with an American. The room accommodated approximately 30 Pakistanis, who it appeared, were giving the three, quite a grilling as to the credibility of not only the Pakistan government they represented but also as to their (lack of) worthiness of representing Pakistan.
Also Read, Tweet & Share: At Delhi's mango festival, Manish Sisodia resorts to 'aam' humor
Ehsan Iqbal, was being scolded by an extremely irked Pakistani Physician, using poetic verses, questioning his efforts in helping in development of Pakistan. The verses of the poem by MaulaNa Tariq Jameel, being:
"Tu Idhar Udhar Ki Baat Na Kar,
Ye Bata Ke Kafila Quon Luta.
Mujeh Rahzanon Se Gila Nahin,
Teri Rahbari Ka Sawal Hai."
Also Read, Tweet & Share: Documentary on Indian American Spelling Bee Champs Debuts at Film Festivals
Which translated, means:
"Don't Talk Of Things Unrelated
Tell Me, How Was The Caravan Looted?
I Have No Complaints With Bandits,
I Question Your Ability."
Also Read, Tweet & Share: Muzaffar Ali captivates with dance drama on Yamuna at the 5th Wajid Ali Shah Festival
As the reader can tell, this is a very apt set of verses Ahsan Iqbal was being subjected to – given the criminal cabal that is the government he represented. What irked me equally, was his audacious telling of the "sacrifice" he made in not working for a Fortune 500, but preferred to go help develop Pakistan. What did he take the audience for I asked myself? Was he shot with a water pistol containing a home-made bullet that had sufficient momentum to enter his abdomen and lodge itself in his intestinal lining – that he decided would be better kept in there for the "political capital" he could derive off it?
Also Read, Tweet & Share: Ram rules over Mughal Culture at Taj Festival in Agra
And that quip about sacrificing working for a Fortune 500 company! Now for someone like myself, who worked for no less than 6 Fortune 500 companies, I did not know it was considered a "prestigious" thing to have worked for a Fortune 500 company. In-fact, every time I think of those companies, I think of the millions of dollars they are still making off my work. And this "con artist" of a man did not actually get into one such company, but enjoys the fantasy of having done so, which he sacrificed to go make his fortune, as the physician poetry reciter hammered into him, by being part of the crooked government, he represented.
Also Read, Tweet & Share: Literary festivals bring litterateurs together in Lahore and Karachi
I did not talk to the two ambassadors or the con artist, Ahsan Iqbal, but I did talk to the American, from the State Office and introduced myself as "British American", hoping it would raise his interest level, which, as evident from his big smile, and his outstretched hand for a handshake, it did. I swear I heard him say, "thank God, someone to talk to", for while the audience interacted with the ambassadors and con artist Ahsan Iqbal, the American sat there wordless, uninterested, and lost.
Also Read, Tweet & Share: Jashn e Rekhta celebrates Urdu in three day festival in Delhi
He and I embarked on the politics of the 3 countries I am a citizen of, and told him that I never have to worry about the politics of Britain, or the US, and in-fact, I told him, I often write about the greatness of the British Parliamentary system and how I used to communicate with the office of the late Baroness Shirley Williams during my university days in the late 1970s. I told him how I'm at pains at what's happening in Pakistan and related to him my experiences of seeing the worst of Pakistanis, the least educated, least able of all, ruling Pakistan, and of my experiences having seen their children at the best Universities here and in Britain using what's called USAID and its equivalent UKAID.
Also Read, Tweet & Share: Ram Navami Flags stitched by Muslims for Centuries!
They use this AID to send their kids to world class universities but who read subjects such as History and other useless subjects, that are of zero value to Pakistan. I asked him if he was aware, that Garry Powers U2 spy plane had taken off from an airfield in Pakistan in 1960, a time of great partnership between US and Pakistan, when a US Dollar gave 3 Ruppees. He was pleasantly surprised, saying he was not aware that the U2 had taken off in Pakistan.
Also Read, Tweet & Share: Eid Celebrated at the Indian Consulate, New York, Azadi Ka Amrit Mahotsav
He talked to me with a great deal of interest and obviously wanted to continue, but I had to stop as I was being prodded from behind by the "photo seekers" with him. I did not take a photo with him – and I did say to him that "I don't do that" – at which point he laughed. We shook hands as I left. People took photos with him without engaging him in a conversation.
Also Read, Tweet & Share: Happy Bandi Chhor Divas, The Story Behind. Happy Diwali
There were other things that irked me on this day, for before the end of the "ambassador-audience" interaction a fourth gentleman had entered the fray and joined the table and facing the audience introduced himself as the manager of Bank of Punjab and launched into a marketing spiel, offering a guaranteed return of 10% on their investments. I listened to this and, with a wry incredulous smile I looked around to see how the others responded to this obviously flawed "come hither" and "lose your life" savings scheme. Not one person took notice of him.
Also Read, Tweet & Share: Muslim tailors in Gorakhpur are busy stitching clothes for Hindu 'Kanwariyas'
The gala dinner in the evening brought on an MC, a Master of Ceremonies, they had brought from London, who readily admitted, "for her accent". Her high pitched, shrill voice was just south of " is it Real, or is it Memorex", advertisement from the 1970s. She absolutely needed a narrow band filter with a hard dynamic range suppressor, to remove her fundamental frequency that must have been close to 12KHz, and near harmonics suppress the amplitude with which she was shrieking through the audio systems. The music as usual was tailored to the high nostalgic demands of Pakistanis that made them feel at home, with lots of rhythmic dance routines and Urdu/ Hindi lyrics that thrilled both the young and the young at heart.
Also Read, Tweet & Share: Hindus and Muslims celebrate Holi in Islamabad
It was a later entertainer who began to vocalize Opera Notes that caught my ear, causing me to pull myself and sit up. He vocalized both a man's full on baritone as well as a woman's mezzo-soprano. It was extraordinary for me to hear this, in this place of a Pakistani musical event. It seemed extraordinary to me that a Pakistani audience, likely, were being instructed in the Opera art form by a Pakistani singer, from Pakistan. Here in the United States. An audience that lives here in cities such as New York and Washington DC and Seattle and Boston – cities each with at least 5 opera houses / classical concert halls, to which this audience had never visited. To my knowledge there are 7 such places in Seattle and 5 in Boston, and this does not include those attached to Universities and Colleges, such as the Boston Conservatory.
Also Read, Tweet & Share: Delhi Government Lights up the Sky with Lasers Not Crackers, Happy Diwali
And these people were learning of this beautiful art form from a Pakistani. How incredibly amazing is that?
The singer was so good that I almost went up to him to request a rendition of Mahler's Kindertotenlieder, suggesting he make it sound as close to the great Jesse Norman as possible.
Also Read, Tweet & Share: Thousands attend spectacular Dusshera-Diwali festival event in Houston
All in all, it was a very instructive 24 hours. Were it not for the ambassadors and the con artist Ahsan Iqbal, I'd have said I had a lot of fun, for the 3 Pakistani politicians brought to my attention, up close for the first time, what Imran Khan is having to deal with. These politicians are not only ill educated, ill equipped to run a country, but they are extremely well versed in con-artistry to boot.
Curated and Compiled by Humra Kidwai
Articles written by contributors have different viewpoints. The views expressed in the articles are the author's own and not necessarily supported by TIO, The India Observer its affiliates, staff, or the management. Our Articles can be reproduced, with the following conditions, (1) No alteration to the content, (2) Visible, full credit is given to the Author & Editor. (3) Citing, The India Observer, TIO. In the case of online or electronic media, a link to the original article must be given. Rules are strictly enforced. Any questions, email the Editor at: Mediaiss@gmail.com
All Copyrights reserved. Please be guided